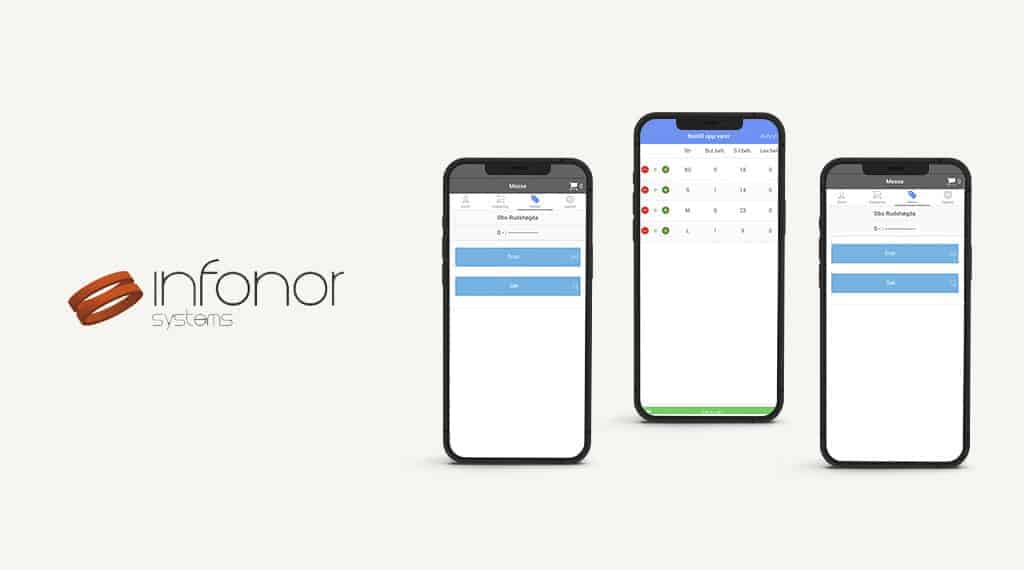 My Journey at Infonor Systems: From Developer to Project Manager and UX Designer
From 2014 to 2018, I was a UX designer, project manager and developer for Infonor Systems AS. This is one of the many projects I did through my company RÅDAHL. I have had the opportunity to work with some of Norway's largest retailers through Infonor Systems. G-Sport and Intersport are some of Norway's largest sports goods retailers, and they needed us to develop an app to better manage the stock in their stores. The app is now used by 3.300 employees in these retailers! With this mobile application, they can help customers find what they are looking for and order the goods that the store needs to store directly from their phone.
What were the problems for Infonor Systems AS?
For retailers, it is a challenge keeping track of inventories and order for their stores. They often attend trade fairs to get a head start on what's coming next season. However, this can be difficult when you stock your shelves with all the different garments or accessories available at these events, and try to keep an eye on what is selling and what is not.
For example, retailers often have trouble keeping up with changes, because they need constant updates on which items will sell well and how much inventory needs to be replenished in each store – not just one general location.
What was the agitation for Infonor Systems?
Digitrade, a product from Infonor, is an inventory management solution that helps retailers handle everything from the back office to the store floor. Retail has changed so rapidly in recent decades, with many new technologies and software emerging daily. Even experienced managers find it difficult to remember what needs to be done when they finally sit at their computer before they shut off for the night! With Digitrade's intuitive interface, employees will always know exactly where they are in terms of managing all aspects of the store – whether big or small.
And the solution:
The new app has been developed with this problem at heart. It's easy enough for anyone to use (even if you aren't tech savvy), but also powerful enough so that we can offer many useful features, like push notifications (for example when your item is ready), scanning items into inventory, etc. Anything related to ordering merchandise through Infonor Systems AS can be done on this app!
My responsibilities at Infornor Systems:
Take an idea to finished product
Manage a team of programmers
UX Research
User testing and interviews
Prototyping
UI Design
App development in Angular and Redux
Deployment of IT solutions to Apple App Store and Google Play.
Discover more
Discover more of the work I've done