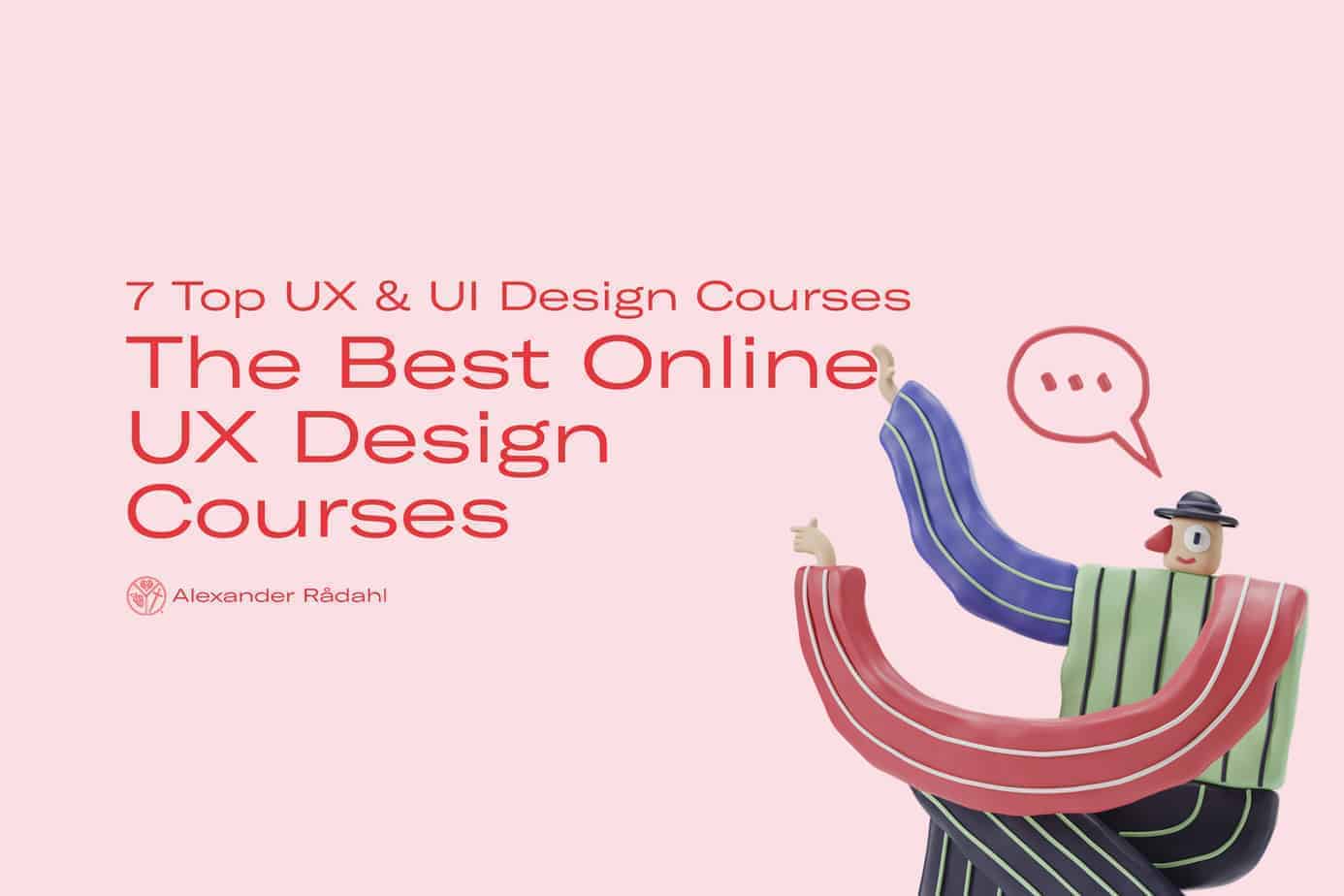 Written by
Alexander Rådahl
The Best Online UX Design Courses: 7 Top UX & UI Design Courses
The world of UI/UX design is constantly evolving. Online courses are an excellent way to keep up with ever-changing trends in this field, and have become a necessity for those who want to be successful designers in today's business climate. Join me as we explore the 7 best online UX design courses!
With so many options, it can be difficult to know which ones will get you where you need to go, without wasting your time or money on courses that do not help improve your skills at all. For this reason, I have compiled seven top online UX education opportunities from around the world (see below) that offer everything you need to become a master designer!
I got started as a UX designer through courses, and so can you!
I had a tough time in my early teens with bullying and low self-esteem. I was the type of person who loved being at home on the computer, always had to know everything and could never stop learning things that appealed to my curiosity. When I stumbled across an article about how someone started their own business at 14 by teaching themselves graphic design on YouTube, it made me feel better about myself because it showed me there are ways to teach yourself pretty much anything you want if you make the effort!
So in the next few days, after reading this article, I downloaded all these free online courses for web development and graphic design. It took some trial and error, but eventually, when I graduated from high school, I knew more about the subject than most college students, and I could continue my education by teaching myself.
Since then, UX design has always been a passion because it combines so many aspects of every other type of design that interests me. Online courses have also become an absolute necessity to survive in today's UX world, where you are expected to master new skills to get the job you want.
Get your interaction design foundation in order with a UX design course
When you're just starting out as UX designers, it's important to build an extensive foundation of knowledge about the field of interaction design and user research. There are many online courses available that will get you up and running with these essential methods and knowledge in UX design.
Below I have listed some courses for beginners, but also some for UX designers who want to develop their skills.
#1. My favorite online training courses to learn UX Design from Udemy
Udemy is an online learning platform that allows anyone to create the course, and upload it to the site. Generally, Udemy courses are reasonably priced compared to other online training sites.
That means Udemy has over a thousand UX design courses (and growing!). Some courses are free, but many of the top-rated and more popular courses tend to be paid.
The UX Design course from Udemy is an excellent choice for someone who needs help setting up their workspace, getting started, but also for those who are more advanced. The course will take you through the basics of designing and prototyping.
My favorite online training courses to learn UX Design from Udemy
If you're looking for UX Design courses and want to learn from the best, Udemy is your go-to destination. Whether it's a free course or one that requires payment, they have 1000s of options available on many topics. This means there are plenty of wonderful choices for anyone who needs help getting started with their workspace, prototyping designs or more advanced techniques like user testing.
#2. UX Design Institute: Professional Diploma as a UX Designer
The UX Design Institute is an online UX design course that allows you to design projects and learn from mentors while earning a diploma. The program will teach skills including user research, analysis frameworks, interaction design and wireframing. Online courses are becoming more popular with the increase in remote work, and degrees for many subjects, including UX design, offered by programs like this.
The decision to take an online course is no small decision. The UX Design Institute offers intensive 6- or 12-month courses, which result in a Professional Diploma of UX Design by Glasgow Caledonian University for $3,200 total cost. They also offer a payment plan that allows you to earn from your degree even before you pay for it! Always do your research before you sign up!
There are excellent opportunities for beginners in the online courses at the UDI Online UX Design Institute. They are open to everyone, even if you have no experience with design or technology! If they are accepted into one of their case-by-case admissions processes after consulting an education consultant on your previous applicable skills and commitment to learning UX quickly, students will be able to keep up with all course communication in English.
#3. Coursera – one of the best online UX design courses
UX designers are always looking for new ways to improve their skills and understanding of UX design. An online UX design course can be a valuable resource in this regard, but many online courses offer only video lectures or slideshows without any opportunity for feedback on students' work. This is where Coursera comes in.
Coursera is an online learning platform that allows you to learn from the best professors at leading universities and companies around the world. You can take courses, earn job-ready certificates or degree programs on various topics, including data science, business administration, UX design and more!
Coursera works with leading organizations, including over 200 universities worldwide, to bring flexible, affordable, on-demand education to people everywhere, whether you're in a full-time job or just trying to build skills in our current roles. Their platform contains thousands of hours of content, including practical projects and lectures by prominent leaders in many areas, including data science, business administration (BADM), UX design, statistics, IT project management, among others.
Some of the best UX design courses you can find on Coursera (in my opinion):
#4. Lynda – Perfect for UX designers who want to learn a lot
Lynda offers over 4,000 online video courses in over 20 categories, including: web design, graphic design, audio/video post-production, 3D animation and more! They have something for everyone considering professional development opportunities, like certificates or degree programs through their partnership with leading universities, including Harvard University or Yale University.
Even though Lynda.com offers many UX design courses and content, one of the most common complaints I read about the site is that the content is outdated. This often has to do with the tech space moving at such a rapid speed that it can be hard to keep up with the latest trends.
This can be an issue for those who want to learn about UX design, especially since things are changing rapidly nowadays. You have to stay updated with all the new trends and techniques if you want to be successful.
Some of the best UX design courses you can find on Lynda, based on ratings:
#5. DesignLab
The UX Design Academy is the perfect place to refine your skills and pursue a career in user-oriented design. As a student, you will be assigned an experienced professional to lead you through every step of your job search process and the UX design course. For those looking for more than just basic concepts, it offers full online courses and part-time courses that help beginners develop their talents and refine their techniques that are ready for real-life applications.
DesignLab students have worked at several prominent Silicon Valley companies, including Microsoft, Facebook and more! Personal guidance from experienced professionals is an invaluable asset for any student with a passion for UX, as it provides insight into an industry changing rapidly and can be different from the classroom.
#6. SuperHi
SuperHi's UX design course introduce students to practical interface design techniques and suit every student looking for a career in UX. Students will learn how to apply research strategies, including customer interviews and wireframing, as well as prototyping user interfaces for testing purposes. This is available at $360 a year and may be best suited to those with different experiences in UX Design careers.
The SuperHi education platform is designed to help you learn and grow faster. Online courses are personalized just for you, with direct access to some of the best teachers in the world. The platform also touches on a wider field of code and project management.
#7. Google UX Design Certificate – The most popular UX design course right now for a UX Designer
I just want to mention this course as its own point, even tough, it is part of the package Coursera offers its customers. The reason is the Google UX Design Certificate was prevalent during the lockdown and has launched many new careers in UX design.
The pricing model of Coursera can be a little bit hard to understand, but to make it simple: you can get a full Google UX Design Certificate on Coursera for $39 a month. It will then depend on how much time it takes to finish the course.
The course has received mixed reviews, one of the most prominent is Google is essentially training its future employees, and the course is heavily colored by that. This can be both a good and bad thing, depending on who is doing the course and what your goals are.
But on the other hand, Google is kind enough to offer a in-depth course for a modest fee that can get you started in a job that will provide considerable income for many years to come.
The course is a terrific way to get started in UX design, and it can be taken on top of the other courses I recommend. Students will learn both how to work with existing data and conduct research before designing solutions that make a real impact.
Bonus: Other resources for learning UX/UI
If you prefer to learn in a more practical approach, there are many other ways to do so. As I mentioned in the article earlier, I started using free videos on YouTube and reading articles online (like you do now). You have to find the method that suits your learning style. But I can't stress enough how important it is to develop a solid interaction design foundation if you want to be stated in user experience design.
Below you will find some more resources that I think would benefit you on the methodology side of UX design, as well as larger questions about what it means to be a designer and how to do it. Some areas you should focus on are usability testing, UX research, design process and more.
Online UX courses are awesome, but it can be hard to find the right one.
Online UX courses are a fantastic way to learn more about this field and get started in a career growing rapidly. But with so many options, how do you know which course is best for you?
I hope this list of 7 online UX design courses will help you make an informed decision on your next step in your career. These top rated programs offer different levels of instruction, and all have been reviewed by professionals in the industry. You'll also find links where you can read reviews from other students who have taken these classes themselves!
Moving forward with the best online UX courses
Online UX courses are a fantastic way to learn more about this field and start a career in an industry growing rapidly. Online course platforms like Coursera offer many types of programs, which can be hard to find the right one for you.
With this list, I hope you've gathered a better overview of the options you have and how they can advance your career and make you a better UX designer. Online courses are rapidly growing, but it's important to find the right one for you that creates a proper interaction design foundation before spending money or time on something that won't benefit you as much.
FAQ about best UX design courses
<!– wp:uagb/faq {"block_id":"1a2f21ef","expandFirstItem":true,"enableSchemaSupport":true,"boxBgColor":"#fadfe3","borderColor":"#fb1e29","questionTextColor":"#fb1e29","questionTextActiveColor":"#21214d","vquestionPaddingDesktop":20,"hquestionPaddingDesktop":20,"answerTextColor":"#21214d","vanswerPaddingDesktop":20,"hanswerPaddingDesktop":20,"iconColor":"#fb1e29","iconActiveColor":"#fb1e29","gapBtwIconQUestion":13,"iconSize":15,"schema":"{\u0022@context\u0022:\u0022https://schema.org\u0022,\u0022@type\u0022:\u0022FAQPage\u0022,\u0022@id\u0022:\u0022https://radahl.no/7-best-online-ux-design-courses/\u0022,\u0022mainEntity\u0022:[{\u0022@type\u0022:\u0022Question\u0022,\u0022name\u0022:\u0022What do I need to know about online UX courses?\u0022,\u0022acceptedAnswer\u0022:{\u0022@type\u0022:\u0022Answer\u0022,\u0022text\u0022:\u0022\u003cmeta charset=\\\u0022utf-8\\\u0022\u003e\u003cmeta charset=\\\u0022utf-8\\\u0022\u003eOnline courses are an excellent way to keep up to date with the latest UX trends. Online courses offer various benefits, including on-demand video at your disposal and anytime, anywhere. One downside might be that you will not interact so directly with teachers and students, but with the new online course platforms, this is becoming more and more improved.\u003cbr\u003e\u003cbr\u003e\u003cmeta charset=\\\u0022utf-8\\\u0022\u003eOnline courses are an excellent way to obtain a UX certification. Online UX education is more affordable than most traditional forms of education, but you can still invest in your
career by being trained in the latest design
techniques and technology tools.\u0022}},{\u0022@type\u0022:\u0022Question\u0022,\u0022name\u0022:\u0022Online courses are an excellent opportunity, but what is the best for me?\u0022,\u0022acceptedAnswer\u0022:{\u0022@type\u0022:\u0022Answer\u0022,\u0022text\u0022:\u0022Online courses are a wonderful opportunity to improve your UX design skills, and whatever course you choose will help you achieve your goals. It is important to know what targets each class or program aims for, so it can be easier to choose one that meets them.\u003cbr\u003e\u003cbr\u003eStudying certain skills, including user research, data analysis, or interaction design, requires more work than studying principles in this field, including
usability tests
. It is the best if students understand this in advance, but not mandatory (for example: gain practical experience).\u003cbr\u003e\u003cbr\u003eOnline UX courses are also an excellent way for those working in remote positions or from home, as they allow employees to continue working while studying at their own pace.\u0022}},{\u0022@type\u0022:\u0022Question\u0022,\u0022name\u0022:\u0022Can I take these courses as well as other online courses and still gain value from both?\u0022,\u0022acceptedAnswer\u0022:{\u0022@type\u0022:\u0022Answer\u0022,\u0022text\u0022:\u0022\u003cmeta charset=\\\u0022utf-8\\\u0022\u003eIt depends on the course. Online UX Design Courses have common fundamentals for the profession, but each course is also specific in its own way. Some focus more on business culture and business strategy. Others give you a guide to best practices in content design, or consider the role of the user experience in marketing analytics, including A/B Testing and SEO.\u0022}},{\u0022@type\u0022:\u0022Question\u0022,\u0022name\u0022:\u0022\u003cmeta charset=\\\u0022utf-8\\\u0022\u003eHow much time does it realistically take to complete an online UX design course?\u0022,\u0022acceptedAnswer\u0022:{\u0022@type\u0022:\u0022Answer\u0022,\u0022text\u0022:\u0022\u003cmeta charset=\\\u0022utf-8\\\u0022\u003eOnline UX courses can usually be completed within months. The course typically covers UX theory, specialized design practices and industry topics that are crucial to the function of these types of programs.\u003cbr\u003e\u003cbr\u003eUltimately, however, it is the circumstances of the individual, like work and personal commitments or their own motivational levels during the course, that determine how long it takes to complete an online UX design program. Prospective students should expect an average time frame of about 2-3 months for completion.\u0022}}]}","questionLeftPaddingDesktop":20,"questionBottomPaddingDesktop":20,"headingTag":"h3″} –>
Get ready to skyrocket conversion! 🚀